Many clinics specialized in chronic conditions have been established in the early 80's in Tijuana, Mexico, just across the Californian border with the US. These clinics specialize in Integrative Oncology and Integrative Medicine for different type of chronic diseases, and receive patients from all over the world. All treating practitioners are medical doctors (M.D); some of them are oncologists with years of backgrounds, working in conventional cancer centers and hospitals. There is a link with Integrative Cancer Clinics in Germany, where most of the treatments have been originally developed.
ChemoAlternatives has visited the leading clinics in Tijuana, met with the doctors and staff, interviewed patients, and chose to recommend the best rated ones, according to the following parameters: The medical staff, years of experience, success rates, treatments offered, patients' testimonials, facility, price and location.
We invite you to a virtual tour at the clinics, get to know the doctors and the therapies offered in each and every clinic: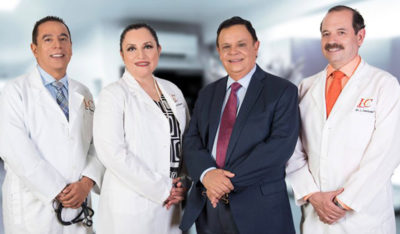 An end-to-end facility which includes medical staff 24/7, full boarding and more.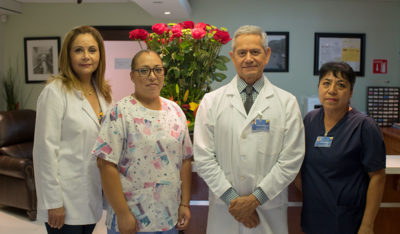 An outpatient clinic offering daily IV treatments, organic meals, airport pick-up and more.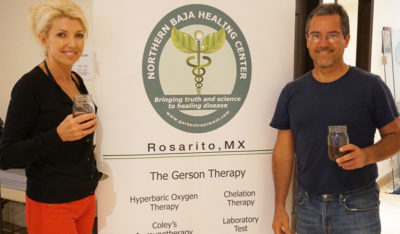 The traditional Gerson Therapy combined with IV treatments, amazing location. 
We don't treat cancer, we treat people.
The treatment approach offered in Tijuana clinics is of Integrative Medicine, treating the patient as a whole and striving to heal all critical immunological organs, not just trying to eliminate the tumor. The doctors and nutritionists work closely with patients with different types of cancer in different stages of the disease. The treatment is aimed at strengthening the immune system, reducing pain and side effects caused by conventional treatments, and improving the patient's' quality of life. The conventional therapies are much better tolerated thanks to the natural treatments, and the body is stronger in fighting the disease.
Improving the general physical and emotional health of the patient, detoxing the body and eliminating the factors that help cancer thrive, enhances the therapies, helps them to fight the cancer better, as well as help to prevent recurrence. This is achieved by infusions of detoxing supplements, multivitamins, personalized nutrition, anticancer natural infusions and drinks, oxygen therapy, ozone therapy, and more.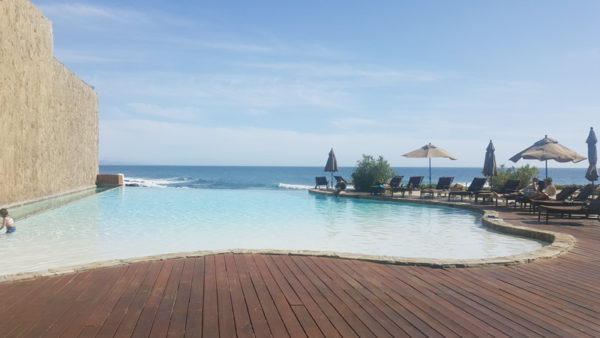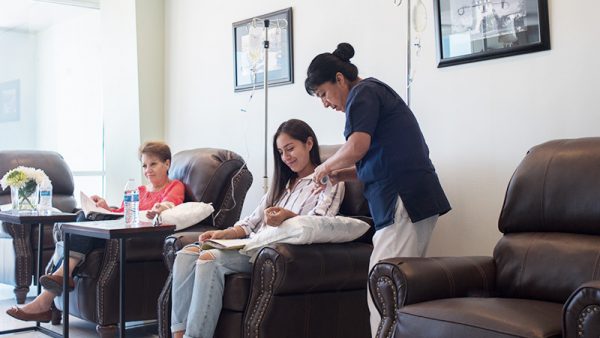 Most Mexican clinics offer similar combined treatments in order to achieve this goal, with some differences in the types of treatments, technology on site, services provided, and of course the facility and its costs.
Get an initial consultation
Reach out to the clinic of your choice for a medical consultation.
The Northern Baja Gerson Center is a first rate health care facility that feels more like a resort. The staff is caring, friendly and knowledgeable, the food is amazing and is literally handcrafted by artist chef Laura Otis. What that women does with veggies is outstanding! The medical staff made me feel hopeful and inspired thru the Gerson therapy and advanced protocols. After 3 breast cancer diagnosis, this is what I have been looking for – a place to heal and learn a new of living. Thanks Dr Vickers and the entire staff at NBGC for taking such good care of me!! Have a great day!!
Hi Dr. Vickers, Geno and I would like to Thank you for all the services you provided at Baja. I had a great stay, and the staff was great. Thank you for all the knowledge you and your staff has offered me. Great job Dr Vickers, Thank you!
Thank you very much for all you've done for me in being at the clinic these two weeks. I appreciate Filipe picking me up and more, all of the staff have been great. I am feeling good about the choice I've made and have already referred your clinic to another person I know dealing with cancer, thank you for all you do. Everyone is great and I really appreciate the atmosphere and culture of caring that you have established here. I look forward to meeting you and thanking you in person.
Thank you for being a facility that provides such superb care to your patients, leading them to you from all over. You have helped improve my God Fathers (Jim Lister) quality of life and in doing so have brought joy not only to him but to the lives of all his family and friends. For all you do, we are appreciative and thankful.
My wife and I went to BioCare in 2011 with her having stage 3 colon cancer. She has been cancer free now going on 7 years. Thanks to BioCare. Before going to Biocare, In the US hospital in Alabama, she had colon surgery to remove much of her colon and then she had two treatments of chemo. The Chemo caused her surgery to fail and she had to do another surgery. Then she got staph infection. We decided to go to BioCare after research and talking to others who had been. After a week at BioCare, BioCare cured her staph infection, of which the US doctors could not cure or control. The care at BioCare was impeccable. Nurses at your beck and call whenever you needed them and no waiting like in the hospitals in US. Doctors in house all the time if you needed to talk to them. Food whenever you wanted some. Fresh fruits all day long. Friendly staff in all areas. Cleaner than you will find in any US Hospital. Clean several times a day. Take you anywhere you want within the area such as shopping. Walmart in walking distance. We recommend BioCare to anyone needing treatments for many different ailments and not just cancer. The US doctors and oncologist frown at B17 laetrile treatments and alternative treatments. Why? Because it cuts into their profits. This treatment works and so many people in the US are suffering but needlessly.
My husband is here for cancer treatment. We have been here five days and he has been getting excellent care. The staff are all pleasant and eager to assist the patient and family. The kitchen is wonderful! All you need to do is give them a call and they'll bring you something to snack on or make a pitcher of fresh juice for you. The doctors are wonderful. They listen to you and make you a part of your care. I would recommend anyone who is having some kind of health issue, no matter how small, to come here.
I am doing well and fully back into my busy life after I left the Stella Maris Clinic in February. I spent a lot of my recovery truly resting and eating well. All of those weeks and months were in an environment of little or no stress, which I am sure, made a big difference. I am so grateful for everything you did for me at the clinic — not only did the treatment seem to work amazingly well on the cancer, but on my body as a whole. I hope all is well for everyone there. I'm sending you all my very best wishes and blessings.
After our first visit to your clinic M was essentially cancer-free and still further confirmation came from the results of PET scan and chest X-ray. It thus appears that you were more successful than you had supposed. Please extend our kindest wishes to Ofelia, Idania, and of course, your wife Linda.
I wish to thank you and your staff for the fine treatment you afforded me during my stay in Mexico. I have been feeling better each day, even quit the pain tablets. Hopefully you have me on the right path to complete recovery. Please convey my deepest appreciation, not only to yourself and Linda, but to your staff, especially Ofelia.
I am well!!! As always, with gratitude for the loving care I received at Stella Maris….. I may just live to be a very old lady!
Dr. Alvarez, Linda, Ofelia: My son continues to improve day by day, thanks to your care & dedication to helping people rid their bodies of cancer. There was a follow up article in the local paper here about how well your treatments have worked — We look forward to seeing soon.
I had a wonderful rest at your clinic – was able to really distress. I'm amazed by what I saw and learned. Your staff and all the people I meet and had long conversation about life and death, our current healthcare system etc. My time there was one of the most valuable experiences of my life. I've been a fan of Max Gerson for 30 years and being at your clinic was a dream come true for me. So thanks again for being flexible with what I could afford. I have a student who was recently diagnosed w stage 4 breast cancer. I gave her your number and pray she reaches out to you. I appreciate what you do so much Dr Vickers!!! ♥️
Thank you very much for all you've done for me in being at the clinic these two weeks. I appreciate Felipe picking me up and more, all of the staff have been great. I am feeling good about the choice I've made and have already referred your clinic to another person I know dealing with cancer, thank you for all you do. Everyone is great and I really appreciate the atmosphere and culture of caring that you have established here. I look forward to meeting you and thanking you in person.
Sean W. from Liverpool, England; a 21-year-old wonderful and extremely smart young man. Sean came to us having been diagnosed a year earlier with advanced Lymphoma. Knowing from the beginning he did not want to be poisoned by chemotherapy and radiation, Sean extensively researched natural ways to treat his disease until he came across Dr. Vickers and the Advanced Gerson Therapy at NORTHERN BAJA GERSON CENTER in Rosarito, Mexico. Few months down the line, Sean had scans done only to find that the largest of tumors appear to be dead with no activity and no signs of angiogenesis to the area. While this is exciting news Sean still MUST remain on the therapy for another 18 months or the risk of recurrence is high. So, congratulations Sean. We are so happy to hear of your progress.
I was a patient at the Center back in November 2016. I'm so excited about my Ca 125 last month's result. It went down to 17. Range is 0-30. My Diagnosis is ovarian cancer. Thanks for providing such a fabulous program. My gynecology oncologist called me the Miracle Lady.